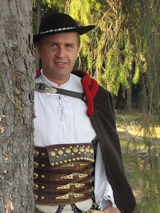 KRZYSZTOF TREBUNIA
www.facebook.com/trebuniatutka
An architect, musician (the leader of the group "Trebunie-Tutki"), teacher, composer, poet, born in Zakopane. He received his degree at the faculty of Architecture at Cracow Polytechnic (1994), also studied pedagogy there, specialising in music, dance and highland singing.
His other achievements: the Student Highland Group "Skalni" in Cracow - instructor of music, dance and singing (1989-94); Youth Cultural Centre – instructor of folk music (1994 -); the Architecture Studio "Tyrałówka" in Zakopane – architect (1994-97); co-owner of the Architecture Studio "Maja" in Zakopane (1997-); juror at: The Polish Radio Folk Festival - New Tradition in Warsaw (since 2007);
He won individual awards at folk festivals in Kazimierz on the Vistula in 1982, 2013 and in Żywiec in 1992, 2001, 2006, 2010. 2014 - Grand Prix as well as at international festivals in Katowice 1991 and Zakopane 1992; performing with the "Krzysztof Trebunia-Tutka Group" he won prizes at national and international folk festivals (Zakopane 1994 and Żywiec 1997, "Multiinsrumentalist" 2012); "Honoris Gratia" from Higlanders Associations 2008, "Honorowy Ambasador Polszczyzny" 2008, "Gloria Artis" from Polish Ministry of Culture
Together with the Trebunie-Tutki Group he won the Polish TV award "Individuality of 1995".
As an architect he specialises in wooden architecture; he composes and writes lyrics (so called "new highland music"); he is also a scriptwriter – films and musicals, and sometimes appears in films (e.g. "Girl Guide" directed by Juliusz Machulski).
Hobbies: history, music, travels
Adres: Tatrzańskie Centrum Kultury i Sportu - Jutrzenka,
ul. Grunwaldzka 3, 34 – 500 Zakopane,
mobile: +48 601 486 371